Prepaid Gift Cards
Leave the buying decision in the hands of the recipient and allow them to choose what they really want. A prepaid gift card is the ideal choice because it is:
Convenient: Use it anywhere Mastercard is accepted domestically online, in-store, or over the phone.
Flexible: Load anywhere between $10 - $1,000 per card.
Safe: Spend only what is loaded on the card.
Easy: Fully transferrable to gift recipient.
Accessible: Check balances online or by phone.
Stop by your local branch to get a Bank First gift card with NO PURCHASE FEE through June 30, 2023!
Reloadable Travel Cards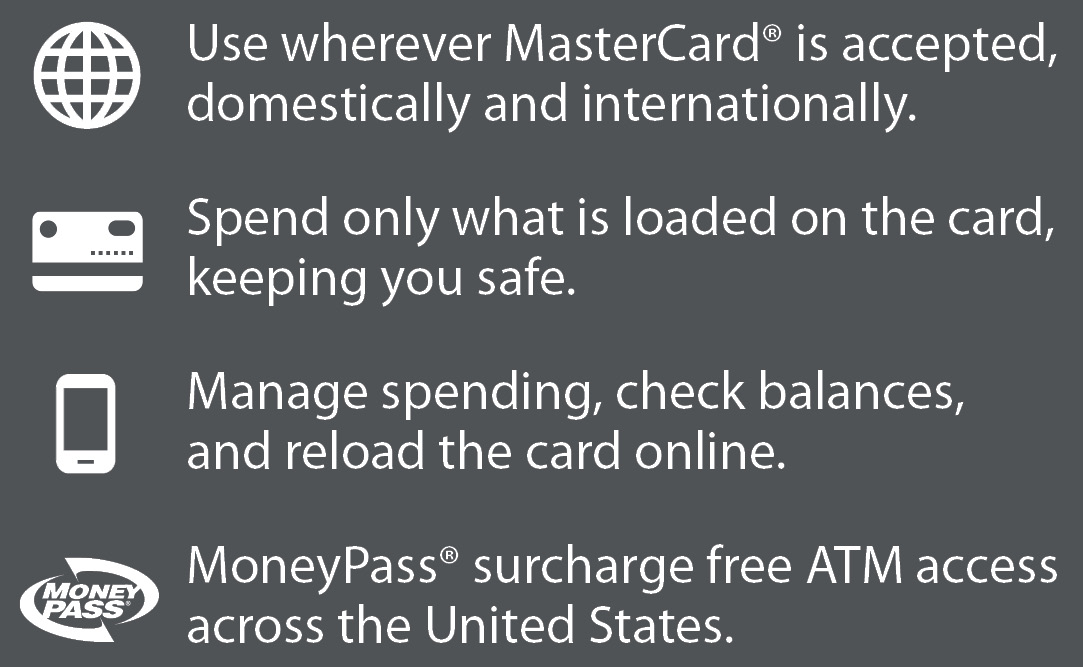 Safe and convenient, a reloadable travel card is the perfect companion on your next trip. Don't have as far to travel? No worries! This card can also be used as an alternative to cash for your child's allowance or a useful tool to help your teen learn how to responsibly manage funds. Reloadable travel cards offer many benefits, including:
Convenience: Can be used to shop when a debit or credit card is required - such as paying for merchandise online.
Recurring Payments: Can be used to set up automatic payments for recurring bills, such as a utility or cellphone bill.
Teaching Tool: Because they are convenient but don't carry the overspending risks often associated with credit cards, prepaid cards can be used to help teens learn how to manage funds. Parents can safely give a card to their child to pay for expenses such as gas, lunch, or books for college.
Safe Travel: A safe, secure alternative to traveler's checks and cash while on vacation. It's a great way to secure your travel funds as it's not connected to any of your other accounts! Use wherever MasterCard is accepted, domestically and internationally (restrictions may apply in some countries).
Visit your local branch for more information on reloadable travel cards or to purchase a card today!