Scammers are always active and whether they are playing the short game by pushing you for a quick response or the long game by obtaining your information (or money) a little bit at a time, the end goal is the same: to make a tidy profit. Remember scams are profitable because they work! Fraudsters can make anything look legit and are very good at fooling people. That's why it's so important to stay on guard at all times.
Today's example - imposter scams by text. Imposter scams occur when a fraudster pretends to be someone you know or a company you trust. If you have a mobile phone, you are no stranger to imposter scams! In fact, you probably have received several scam texts - sometimes more than one in a day. The text message may appear to be from "Amazon", "PayPal", the "IRS", and even recently - "Bank First", but in actuality, it's a scammer attempting to obtain personal information, gain access to your accounts/computer, and ultimately steal your money.
Locally, we've seen a rise in imposter text scams targeting bank account and debit card activity. Take a look at these two examples: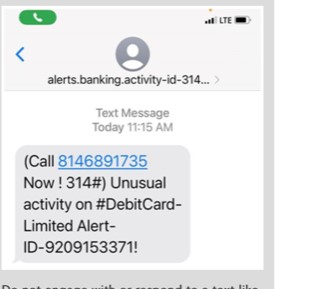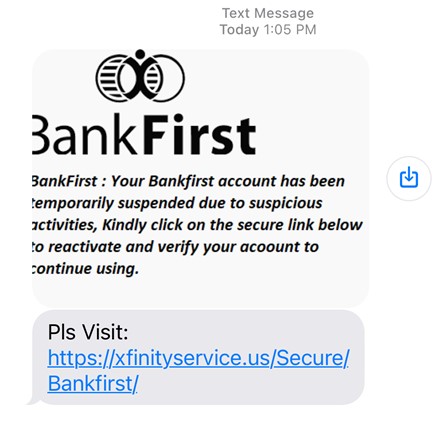 For your own account and information security, utilize these simple, but effective tips:
DO NOT engage or respond to text messages, emails, or phone calls that ask you to confirm or provide personal information. This includes debit/credit card and bank account numbers, Social Security numbers, passwords, etc.
DO NOT click on links or call the phone number listed within a text/email from any company. Always go directly to the source of information - login to your account from a saved source, visit the company website directly, call the phone number on your statement or back of your card, etc.
DO NOT give remote access to your computer to people you do not know.
Always contact your local Bank First office directly if you receive a message with an unusual request or message regarding your bank account, debit card, or other bank-related items. Remember, Bank First will never contact you to ask for your account information.
Please contact your local Bank First office right away if you have provided bank account information, passwords to your online banking accounts, or paid funds as a result of any fraud attempts or scams.